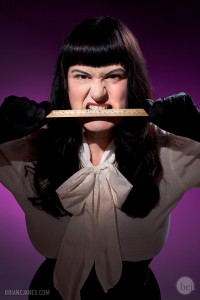 I don't teach burlesque. I teach how to create art within the burlesque genre. – Lili VonSchtupp
I just wanted to be clear about that. My goal as a teacher and mentor is bring out the best entertainment and art you have inside you to share with the world. We all have something to say and talent to share. We all just need help getting our act together.
About Miss VonSchtupp:
Lili VonSchtupp made her debut performance at the legendary Derby in Hollywood CA, on a starry Monday night in 2004. In 2006, she competed in Miss Viva Las Vegas and performed at the legendary New York Burlesque Festival. She has headlined festivlas in Vermont, Hawaii, Boston, Las Vegas, and more, Having worked with Satan's Angel, Stephanie Blake, and studied with many burlesque educators and performers, Lili's been performing, producing and teaching since 2004. Her years performing and producing serves as great grounding in the art of burlesque.
As producer of Monday Night Tease!, Friday Night Happy Hour, Dinner and a Showgirl, and Burlesque After Dark, Lili has booked over 1200 separate performances and worked with both local, national and international talent. Her unique experience as a performer and a producer allows her the eye to understand what works artistically for the performer as a work of art, and from the audience perspective of entertainment. Serving the art form and the consumer is her expertise.
Questions? Concerns?
Please contact Lili directly at:
lili@burlesque411.com
818-378-8866
Lili's School For Wayward Girls, Established 2007